Northumberland and Coll: The world's newest International Dark Sky Places.  Today my organization, the International Dark Sky Association, announces the naming of two new locations to its International Dark Sky Places Program.  The new IDA designations brings UK total to six, affirming Britain's commitment to protecting and conserving the resource of its dark night skies.
Northumberland International Dark Sky Park consists of a UK National Park (Northumberland) and adjacent forestry plantation (Kielder Water & Forest Park) encompassing nearly 580 square miles (1500 square km) of public lands in northern England.  It is the first IDA-recognized International Dark Sky Park consisting of two independent parkland units.
"Becoming a Dark Sky Park will reinforce the status of Northumberland as an unspoiled destination offering a true sense of tranquility and wildness – a tonic in this day and age," said Tony Gates, Chief Executive of Northumberland National Park.
The Isle of Coll, in the Inner Hebrides, is the UK's second International Dark Sky Community. A sparse population and geographic isolation make the night skies over the Isle of Coll among the darkest in Europe. The island adopted a quality outdoor lighting management plan to ensure Coll remains dark for many future generations of residents and visitors.
"Achieving dark skies status will be great for the island in many ways," Julie Oliphant, hotelier at the Coll Hotel, explained. "Not only will it ensure that any future development on the island is done in a way that protects Coll's natural and unspoiled beauty, but it will also help promote winter tourism."
Tweet
To the dearly departed Comet ISON.    On the third day after its harrowing closest approach to the Sun, a picture of the ex-comet is starting to become clear.  Skimming a mere 1,165,000 km (724,000 mi) above the solar photosphere, astronomers watched the comet disappear behind the occulting disk of NASA's SOHO spacecraft on Thanksgiving Day (above) only to find something remarkable on the other side: what appeared to emerge from behind the disk looked far less like a comet than what ISON was before.  Much confusion ensued over what emerged.  Was it an intact nucleus?  A flying cloud of dust?  Something else?
We're just beginning to understand what happened to this rare visitor from the Oort Cloud after it suffered the blistering radiation environment of our nearest star.  What we know was summarized earlier today in CBET 3731.  Some early, intriguing results of the coordinated observing campaign include:
"The comet's nucleus apparently disrupted near perihelion, with the comet's head fading from perhaps a peak brightness of visual mag -2 some hours before perihelion to well below mag +1 before perihelion."  That means the comet's brightness dropped by a factor of about fifteen before it was closest to the Sun.
The rapid brightening (and fading) of the comet on 28 November likely indicates that it fragmented, corresponding to a huge release of dust that explained the brightening.  The fading commenced when the dust release ended: "[T]he comet's production of dust terminated about 3 hours before perihelion."
The fan-shaped appearance of the comet after it emerged from behind the SOHO occulting disk allowed scientists to calculate the size of the particles.  The size of those dust grains was small, on the order of about 1/20,000th of an inch.  They were much smaller than the particles released before closest approach to the Sun.
What survived the close encounter with the Sun could be described as a cosmic dust bunny, devoid of any of the ices usually associated with comets: "[T]here is no visible nucleus or central condensation; what remains is very diffuse, largely transparent to background stars, and fading; it appears that basically a cloud of dust remains from the nucleus."
It seems unlikely that all but the most dedicated (and well-equipped) amateur skywatchers will see ISON in the morning sky as it retreats from the Sun in coming days; by yesterday, its visual magnitude was estimated around +5 and fading rapidly.  The cloud of fine dust particles described above is very diffuse and only becoming more loose as the particles begin to spread out along the comet's orbit, pushed under the relentless influence of the Sun's radiation.  After a journey literally 4.5 billion years in the making, ISON's spectacular finale marked the last we'll ever see of it.
Now the real work begins.  Astronomers will study in detail the many thousands of images made of ISON before, during, and after the close approach to the Sun, and pore over spectra taken to discern its chemical composition.  That work will take months or years.  It's very likely that ISON's lasting lessons to humanity have yet to be learned.
Tweet
What do your city's lights hide in the night sky? This handy infographic published by the Orlando Sentinel shows how night skies artificially brightened by manmade lighting hide different objects overhead.  The intensity of night lighting in a city as large as New York restricts sightings to the brightest planets and satellites, whereas the dark skies of unpopulated areas reveal rich detail in the Milky Way.
Tweet
NASA releases a new Cassini image taken on "The Day Earth Smiled".  This morning, we received a new view of Saturn obtained this past summer when the spacecraft looked back toward the Sun and inner Solar System.  Captured in the frame is a ghostly, dim speck below the rings — the Earth, imaged from over a billion kilometers away.  NASA arranged a highly successful public outreach campaign for the photo in which it encouraged people around the world to "Wave At Saturn" at the appointed time.  As Cassini Imaging Team Leader Dr. Carolyn Porco put it, "In this one magnificent view, Cassini has delivered to us a universe of marvels, and it did so on a day people all over the world, in unison, smiled in celebration at the sheer joy of being alive on a pale blue dot." (click here for the full 5MB photomosaic)
Tweet
Four bright comets light up Earth's skies.  An average year may see one comet bright enough to be observable with a small telescope or binoculars, and once a decade one might become visible to the naked eye.  Currently there are four comets visible in small telescopes; in the image above from the Sormano Observatory in Italy, they are (L-R) C/2012 X1 LINEAR, C/2012 S1 ISON, 2P/Encke, and C/2013 R1 Lovejoy. They span the gamut from the shortest-period returning comet (Encke, at 3.3 years) to newcomers like ISON which has likely never before entered the inner solar system. Furthermore, ISON is a "sungrazing" comet which will skim the burning solar surface at a mere 1,165,000 km distance. Many such encounters go rather poorly for the comet. If it survives, ISON may be a spectacular sight near the end of this month. However, past predictions of "comets of the century" have often disappointed.
Tweet
See the partial phases of this weekend's rare 'hybrid' solar eclipse.  Readers on the eastern seaboard of the U.S. can see part of an unusual solar eclipse early Sunday morning; most will see the Sun rise already in eclipse, as depicted above.  At points across the Atlantic east toward Africa, observers would see a so-called 'hybrid' eclipse, where the dark inner core of the Moon's shadow barely grazes the Earth; the result is neither a total nor an annular eclipses, but aspects of both are present, as can be seen below in an image from the hybrid eclipse of 29 March 1987: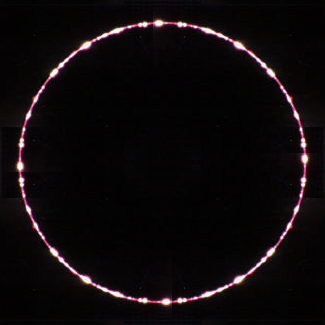 The "beaded" appearance of the Sun results from sunlight shining through mountain valleys around the edge of the Moon and persists for only a few seconds.  'Hybrid' solar eclipses account for only a few percent of all solar eclipses since the required geometry occurs so infrequently.
Americans on the east coast won't see anything so dramatic, but they will get a nice partial eclipse out of the deal.  Detailed maps showing predictions for various locations will help determine what you're likely to see.  
Not in that part of the country?  Watch the partial phases online.  
(Image credits: Eclipse diagrams, Sky And Telescope; 1987 eclipse image, Keietsu Sayama, http://eclipse.star.gs/english/)
Tweet
The first rocky, Earth-sized exoplanet has been discovered.  Researchers at Keck Observatory today announced findings related to Kepler-78b (pictured above in an artist conception), a world originally discovered in data obtained by the NASA Kepler spacecraft.  But this is no vacation spot: Kepler-78b is very close to its parent star, which likely heats its surface to around 2300-3100 Kelvin.  As a result, the surface of this perpetually-tortured world is more heaven than hell (and probably at least partially molten.)
How do scientists know this planet is made of rocks and metal instead of gas or ice?  They measured its bulk density: the "blinking" of the star's light as the planet passes in front of it as seen from Kepler indicates its size (and, hence, volume), while precise Keck measurements of the gravitational tug the planet exerts on the star implies a certain mass.  Dividing mass by volume gives density, which can then be compared against densities of materials we're familiar with.  The mass and volume are plotted on the graph from one of the two scientific papers released today.
Two different groups calculated Kepler-78b's density, finding around 5.3 and 5.57 grams per cubic centimeter (g/cc).  That's a lot higher than, say, the 1 g/cc, but far less than the ~8 g/cc; in fact, it's a lot like the Earth's bulk density, ~5.5 g/cc.  This gives us confidence that Kepler-78b is much more like Earth or Venus, say, than it is like Jupiter or Neptune.  
The next step is to find a world with a similar size and density but in a larger orbit around its star, placing it in the "habitable zone" that may be friendly to the origin of life.  Kepler may be now crippled, but it's most exciting discoveries could be yet to come.
Tweet
Tumbling again: New job, new state.  So I'm back (again) after another extended absence.  On October 1, I started work for the International Dark-Sky Association, a non-profit advocacy organization that fights for dark night skies all over the world.  IDA does this through a combination of encouraging adoption of industry best practices for outdoor lighting and encouraging municipalities to adopt dark-sky-friendly lighting codes.  The job brings me back to my home state (Arizona) after almost 15 years away, and fuses two of my main interests, astronomy and public policy.
The light pollution issue is obviously of importance to astronomers, but in the last couple of decades we have come to understand that its affects are much more widespread.  Outdoor night lighting that is aimed upward not only diminishes the aesthetic quality of the night sky, but represents a waste of money and has known effects on ecology and even human health.  In an era when the climate is clearly changing, light pollution factors into concerns about ever-increased worldwide consumption of fossil fuels.  IDA began in the late 1980s out of concern for the increasing brightness of the night sky over Kitt Peak National Observatory caused by the lights of Tucson; it finds a much more diverse mission now on the basis of these findings.
Clearly we still care about light pollution from the standpoint of how it affects ground-based astronomy around the world.  But we now also see how losing the night affects all of humanity.  IDA publishes information on common-sense steps average people can take to fight the advance of light pollution in their communities; we also recognize International Dark Sky Places for their value and the people who help keep them dark.
In addition to stories about astronomy, I'll start posting dark-sky information here periodically, including efforts in which IDA is involved.  Half the effort of solving the problem of light pollution is simply raising awareness; as GI Joe would say, "Knowing is half the battle."
Tweet
Dream Souls. Photo By David Hanjani
Tweet