A Weak Geomagnetic Storm Is Underway
A disturbance in our planet's magnetic environment, caused by the impact of a coronal mass ejection (CME) from Active Region 1520 on the Sun, is causing the appearance of aurorae right now.  The activity is indicated in the above plot of the K index, a measure of the condition of geomagnetic field.  The red bars show that the disturbance is causing the field to change rapidly, which often leads to displays of aurorae.
However, this event was a little weaker than it could have been due to the glancing blow that the CME struck yesterday, so the only observations of aurorae are at high latitudes (above about 60º).  However, a few observers at lower latitudes saw the lights last night, such as Brad Goldpaint  who captured this image of auroras reflecting from Sparks Lake in central Oregon: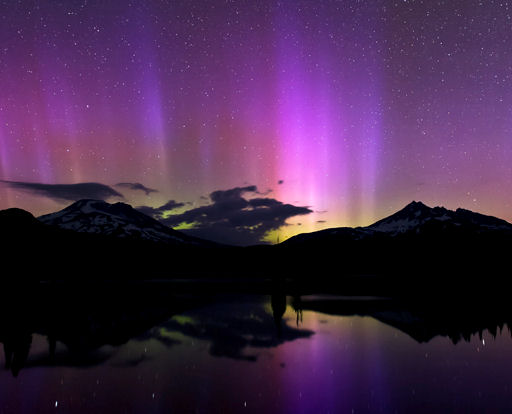 (Credit & copyright: Brad Goldpaint, courtesy of Spaceweather.com)
There are no strong active regions heading onto the solar disk now, so we're out of the woods for a while.
Tweet
Galileo Galilei, Sunspot observations
Galileo helped to create a new science partly because of his extraordinary skills as an observer, which enabled him to create and use the first telescope. These drawings represent sunspots— whose existence proved that the sun was not the perfect, unchanging body that traditional Aristotelian cosmology considered it to be. Galileo's work received strong support for a long time from Maffeo Barberini, the future Pope Urban VIII, though his Dialogues on Two World Systems and Copernican views would eventually be condemned by Rome.
(via scientificillustration)
Tweet
NASA's Kepler space telescope has provided fresh insight on the colossal explosions that can afflict some stars.
(A superflare would be associated with very large starspots - much larger than those on the Sun.)
"These enormous releases of magnetic energy - known as superflares - could damage the atmosphere of a nearby orbiting planet, putting at risk any lifeforms that might reside there.  Fortunately, Kepler shows superflares to be much less frequent on slow-rotating stars like our Sun.  The new observations are reported in the journal Nature."
"The US space agency telescope is currently staring at 100,000 stars in a patch of sky about 600 to 3,000 light-years from Earth.  It is looking for tell-tale dips in light that might indicate orbiting planets have just moved across the face of those stars. But in making those observations, Kepler is also gathering information on the sudden brightening that might be associated with flares."
"Hiroyuki Maehara from Kyoto University, Japan, and colleagues have now reviewed the data to compile the best statistics yet on the frequency and size of superflares.  Kepler saw a total of 365 superflares during an observation period lasting 120 days.  The numbers confirm that very few (only 0.2%) Sun-like stars experience monster flares."
Tweet
Ever wondered what the view would be like when looking down the barrel of a stellar gun? Look no further, this is it.
(Active Region 11476 appears just above the center of the disk in this white light image.  Credit: NASA/SDO)
"As captured in breathtaking high-definition by NASA's Solar Dynamics Observatory (SDO), an erupting active region has rotated into view and is currently facing us, dead-on.  The active region in question, called AR11476, is huge. In fact, as cheerfully pointed out by the SDO's little yellow chicken mascot Camilla, the sunspot complex underlying the active region is about the size of Jupiter! In the image shown above, we are looking at light generated by plasma (heated to approximately 6,000 Celsius/Kelvin) in the sun's photosphere. The sunspots appear dark as the sun's intense magnetic field is thrusting through the photosphere from the interior, pushing the hotter surface layers aside, exposing the cooler plasma below."
"To make this active region even more dramatic, it has been crackling with intense magnetic activity, triggering a powerful M-class flare early on Thursday… And now, according to Spaceweather.com, NOAA space weather forecasters estimate a 75 percent chance of AR1476 producing more M-class flares and a 20 percent chance that it will erupt with a more powerful X-class flare in the next 24 hours. Should a coronal mass ejection (CME) also be launched in our direction, we could be in for a rough ride."
(AR 11476 is one of the largest sunspot groups I can remember in my lifetime.  It's evidently easily viewed with the unaided eye, but if you look , make sure you use a proper solar filter!  Viewing the Sun unfiltered, through a telescope or otherwise, is extremely dangerous and can lead to loss of eyesight.  Be careful!  -JCB)
Tweet
A "monster sunspot" more than 60,000 miles wide could send some powerful solar flares toward Earth on Wednesday, NASA says.
(Image of Active Region 11476.  CREDIT: NASA/SDO)
"The sunspot — actually a group of four spots, each larger than Earth, and smaller spots — emerged over the weekend and was spotted by the orbiting Solar Dynamics Observatory and amateur astronomers,Spaceweather.com reported (via Space.com). It tossed off a moderately strong M-class flare today, and is expected to follow up with even stronger flares, possibly even X class."
(Observers at mid to high latitudes, above about 40º, should be on the lookout for aurorae later this week, if AR 11476 pops off an X-class flare. -JCB)
Tweet
Things on the sun have certainly been heating up.
(The sun produced five eruptions over a two-day period from Feb. 23 to 24. The fourth eruption hurled white hot material, in the circular inset, high into the solar corona. CREDIT: NASA/SOHO/H. Zell)
"Our closest star unleashed five solar eruptions in only two days last week, producing extraordinary northern lights displays for lucky skywatchers over the weekend.  The solar storms flared up between Feb. 23 and 24 and  exploded from nearly all areas of the star, including the top, bottom, left and right sides of the solar disk as seen by space-based observatories, according to NASA scientists. In fact, four of these outbursts came within a single 24-hour period."
---
The Sun remains full of surprises for solar researchers.  Already Cycle 24 — so named as the twenty-fourth 11-year sunspot cycle since modern records of solar activity began to be kept in the mid-18th century — is exceeding some expectations.  Analysis of solar activity in the past three decades suggests that the overall activity level of the sun is decreasing, with a few dire predictions of virtually no sunspots in Cycle 25 (around 2025).  In 2007, NASA's Dr. David Hathaway opined, "The slowdown we see now means that Solar Cycle 25… could be one of the weakest in centuries."  This is based on a forward extrapolation of sunspot counts and other indicators of solar magnetic activity, as in the figure below from Livingston and Penn (2010), linked above as a PDF:
Remember though that the recent burst in solar activity may just be a short-lived blip while the overall activity level declines.  Solar activity weakly correlates with atmospheric and climate phenomena on Earth, so this is a topic of interest to a much wider audience than just the solar physics community. (JCB)
Tweet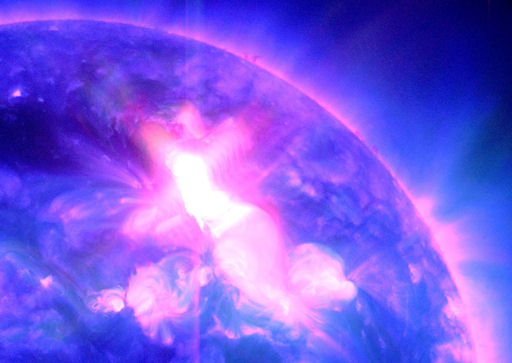 (Credit: NASA)
"The sun is bombarding Earth with radiation from the biggest solar storm in more than six years with more to come from the fast-moving eruption."
"The solar flare occurred at about 11 p.m. EST Sunday and will hit Earth with three different effects at three different times. The biggest issue is radiation, according to the National Oceanic and Atmospheric Administration's Space Weather Prediction Center in Colorado."
"Radiation from Sunday's flare arrived at Earth an hour later and will likely continue through Wednesday."
Observers at higher latitudes above 40° N and 40° S should be on the lookout for aurorae (Northern/Southern Lights) tonight and tomorrow night. (-JCB)
Tweet
(This "first-light" field of stars observed by APOGEE focuses on the constellation Cygnus, which is filled with Milky Way stars, star clusters and dust (seen as coloured, glowing clouds in this background image from NASA's WISE infrared observatory). The large white circle is the field of view of APOGEE, with a width spanning six Moon diameters. The green circles indicate known or suspected young star clusters. The small red circles indicate the position of each faint star targeted by APOGEE. The inset shows pieces of the APOGEE spectra for stars determined by APOGEE to be members of two of the clusters indicated, identified by the near identical motions through the galaxy shared by each clusters' stars and detected as shifts of the spectral features caused by the Doppler effect. These dark line features are caused by absorption of specific colours of light by the atoms of the different chemical elements in each star. Image: P. Frinchaboy (Texas Christian University), J. Holtzman (New Mexico State University), M. Skrutskie (University of Virginia), G. Zasowski (University of Virginia), NASA, JPL-Caltech and the WISE Team.)
The Apache Point Observatory Galactic Evolution Experiment (APOGEE) spectrograph is the latest addition to the Sloan Digital Sky Survey III (SDSS-III), and is set to catalogue the motions and chemical compositions of over 100,000 stars that span nearly the entire age of the Universe, 300 at a time.
APOGEE has already observed 32,000 stars in the first six months of operation, more than four times as many stars as have ever previously been observed in such detail at near-infrared wavelengths by all of the world's telescopes combined. Near-infrared observations give astronomers the ability to see through thick dust that shrouds many stars from view, including previously unseen phenomena in the heart of the Milky Way and right through to the normally hidden far-side of our Galaxy.
"The combination of infrared sensitivity and a 300-target multiplexing capability will make it possible for APOGEE to create the first-ever systematic and comprehensive probe of stars in every part of our Galaxy," says principal investigator Steven Majewski who presented the new survey at the 219th meeting of the American Astronomical Society in Austin, Texas, today. "From this census of our Milky Way we expect many new findings about its structure, dynamics and constituent stellar populations …and to do it hundreds of times faster than would be possible with conventional, one-star-at-a-time instruments."
Tweet
(The gigantic sunspot in the upper left of this image is about 50,000 miles (80,000 km) long and was observed on the sun by NASA's Solar Dynamics Observatory on Nov. 3, 2011. CREDIT: SDO )
"One of the largest sunspots in years has appeared on the sun, darkening part of its glowing face."
"The massive sunspot, called AR1339, is about 50,000 miles (80,000 km) long, and 25,000 miles (40,000 km) wide, reportsSpaceWeather.com. For comparison, Earth itself is only 8,000 miles (12,800 km) wide."
"The sunspot behemoth isn't yet facing our planet, but was spotted today (Nov. 3) by NASA's Solar Dynamics Observatory (SDO) satellite. The spacecraft's photos of the giant sunspot show the solar region as it comes into view on the northeastern edge, or limb, of the sun."
Tweet